29.04.2021
KAPIA-RGI and JUMP Technology provide Life Insurers a complete solution to streamline unit-linked contracts and investment management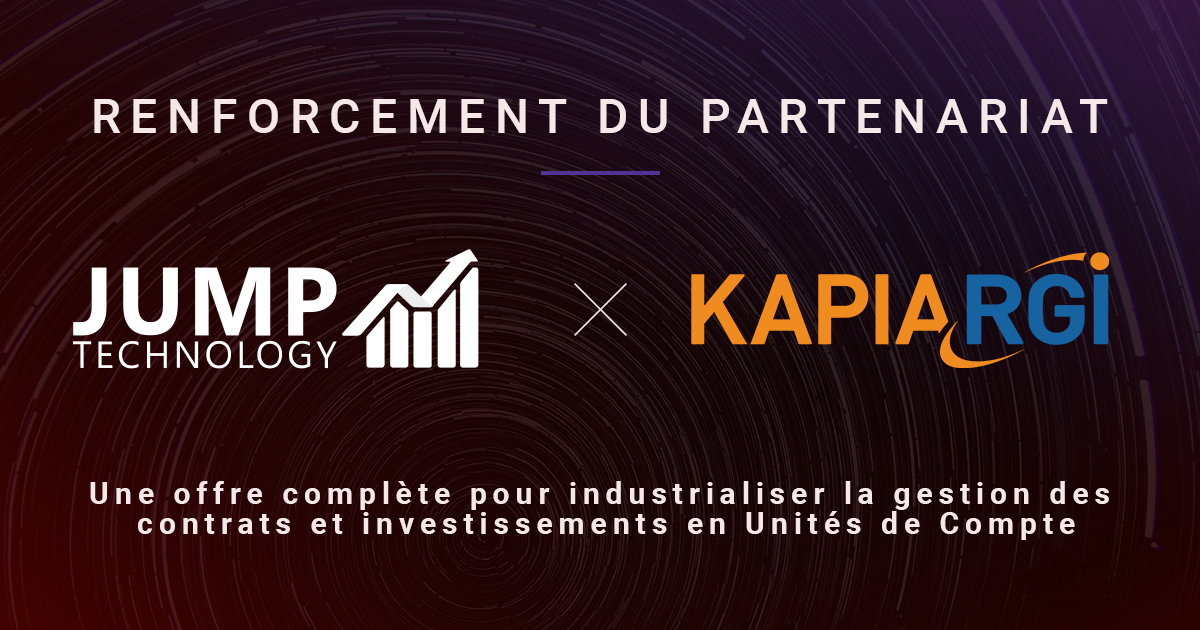 KAPIA-RGI, an application service provider devoted to contract management for the insurance industry, and JUMP, a software provider specializing in investment management, have strengthened their technological partnership, enabling their clients to automate order management and optimize asset/liability matching.
KAPIA-RGI's KELIA solution allows users to manage the entire life cycle of savings, retirement, and contingency contracts. JUMP LIFE is a complete investment management solution for the unit-linked investments of insurers and mutual insurance providers alike. The synergy between the two solutions allows it to automate order management processes, value liabilities from assets, manage fees for both assets and liabilities, and reconcile asset/liability matching.
The feature-richness provided by the two solutions can be easily implemented through standard interfaces, developed throughout the technological partnership between JUMP and KAPIA-RGI that has been in place for more than 10 years. KAPIA-RGI and JUMP product teams work in close collaboration to align their roadmaps, providing regular, value-added updates to clients with both solutions. As such, KAPIA-RGI and JUMP have already started preparing major updates that will be implemented as soon as 2022 in KELIA Version 11.4 and JUMP LIFE Version 4.0.
This technological partnership guarantees both KELIA and JUMP LIFE users regular value addition with shared roadmaps, simple joint deployments, and sustained profitability between asset and liability tools.
According to Emmanuel Fougeras, CEO of JUMP Technology: "This partnership provides a complete solution to Insurers who want to accelerate the development of their unit-linked business, all while optimizing their management processes and reducing costs. This partnership is a symbolic one for us, as the synergy between JUMP and KAPIA is strong: both made in France, founded in 2006, expanding rapidly, and offering Insurers a leading software solution in Europe."
Christophe Quesne, CEO of KAPIA-RGI states: "It's no coincidence that we're very happy to be reinforcing the partnership between JUMP and KAPIA-RGI. We've been working with JUMP for more than 10 years and we already have several shared clients. Now we want to take things step further and align our respective roadmaps to offer an enriched, long-term value proposition. This partnership fits perfectly with the RGI group's strategy of building an ecosystem with our various technological partners through open architecture that is strongly based on APIs and business services.